Boostbery had the pleasure of meeting Antoinette the founder and director of Just Helpers, the friendly, ethical cleaning company with a big vision back in 2019.
We fell in love with Antoinette's aspirations for the company, which she had so much passion for. Just Helpers were on a mission to end inequality by ensuring all employees that they took on, were provided with quality working conditions and fair pay.
Antoinette, previously worked with an anti-human trafficking organisation where she witnessed first-hand how vulnerable people are taken advantage of across UK neighbourhoods and from that moment on she vowed to build a business that would look to give opportunity to people that were less fortunate.
" Boostbery are invested in you and all-round good people. I'm glad to know they have my back."
The Brief
After several deep-dive requirements gathering workshops with Antoinette, it was clear that the existing brand and website were just not aligned with the company's vision and aspirations.
Just Helpers wanted to address this aspiration / identity mismatch by building a robust platform to grow the business and to allow franchising opportunities for the company moving forward.
The Project
We thoroughly enjoyed spending time with Antoinette and the Just Helpers team. It made getting under the skin of the business and understanding the true essence of what they stood for a very fluid process.
Our creatives set to work outlaying the boundaries of the project, together with some in-depth market analysis and brand strategy, all to ensure the new company identity would tick the boxes set out in the initial workshops.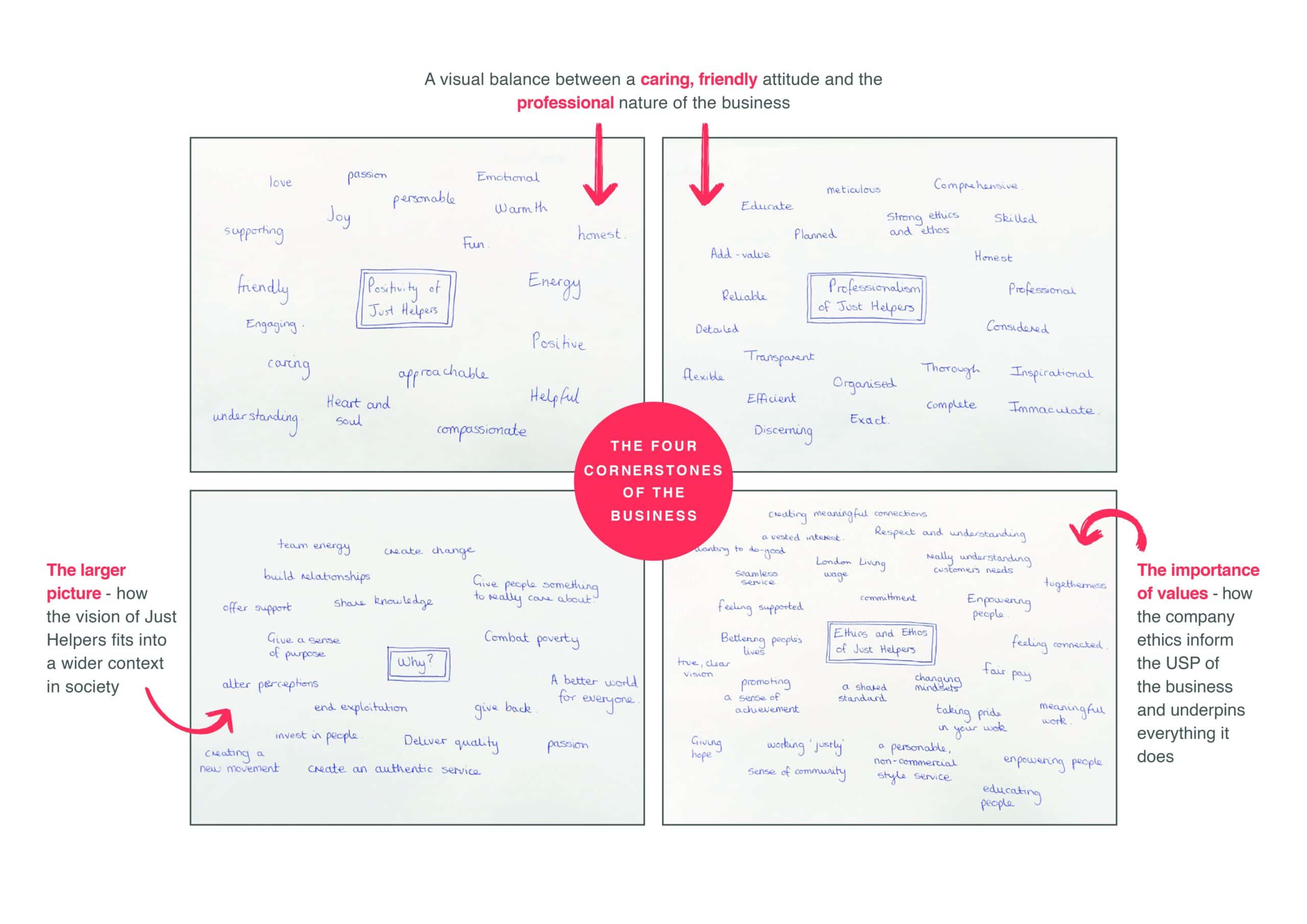 After several weeks of creative brain storming, we settled on two totally different, but just as powerful concepts to present to Antoinette.
Brand Concept 1
We took the concept of justice and a shared ethical vision between the client and Just Helpers and combined it with a dynamic, uplifting visual style to create a fresh brand that is full of energy.
Brand Concept 2
A brand that could act as a medium through which ideas, emotions and human stories could be expressed. Putting people at the heart of the Just Helpers narrative in a way that makes the audience feel engaged in the story themselves.
Antoinette and the Just Helpers team absolutely loved both concepts, but opted for concept 1, which was positioned around shared ethics and the fruitful unity that both the cleaner and their client relationship could be when paired correctly.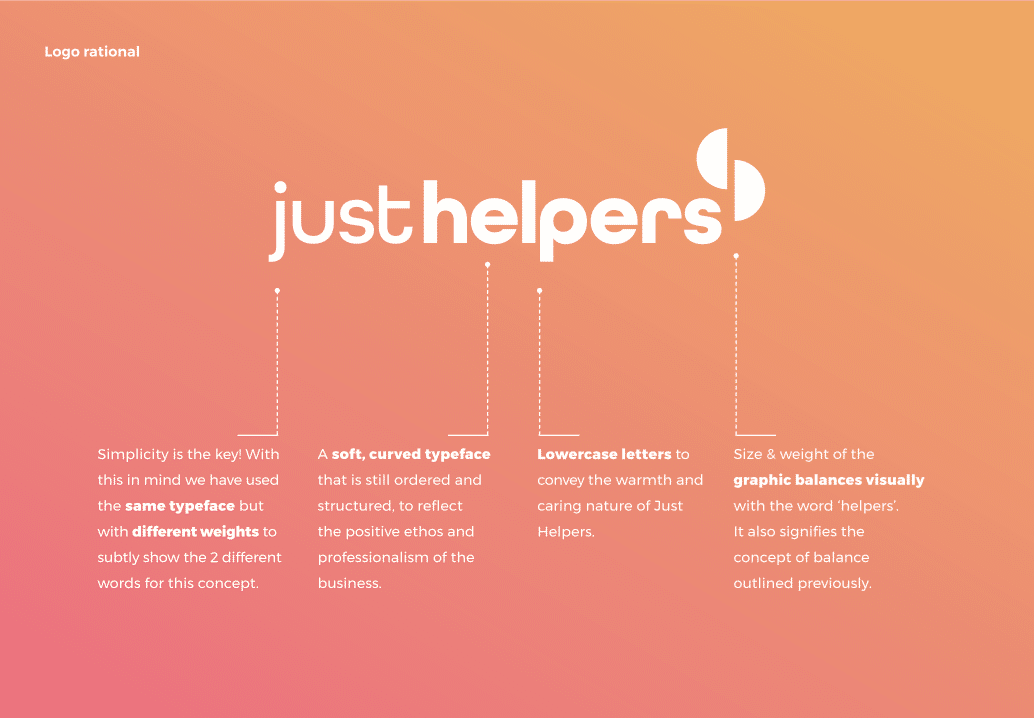 The Solution
The chosen logo and brand concept were both then taken through a rigorous process of refinement with regards to the colour palettes, typography and key messaging.
After producing a range of brand assets, we worked tirelessly with Antoinette and the Just Helpers team to ensure that the essence of the brand was not lost in the transition and translation to the website.
Both brand identity and new website far surpassed Antoinette's expectations and seeing her sheer emotion during the process was just something we will never forget.
You can view more on the work we carried out for Just Helpers by visiting our case study page and you can visit the new website at – www.justhelpers.co.uk
The Experience
We can honestly say that Antoinette and the Just Helpers team are far more than simply customers. We have forged an understanding and a friendship as a result of this creative campaign that will last forever.
We continue to be fully supportive of the Just Helpers cause and will always be willing to provide guidance and creative contributions that will help Antoinette achieve her vision for the company.
Antoinette's experience with Boostbery in her own words.
" We initially recruited Boosbery to help us redevelop our brand and create a suite of marketing materials that we could be proud of and feel reflected the heart of who we are.  In short, they exceeded our expectations.
My first interaction with the team was an informal coffee with Jack, one of the directors.  His easy, personable, insightful, jargon free, conversational approach to that meeting put him ahead of the other companies that I had been speaking with.  He had done his homework on us, and I felt from the get-go that he intrinsically understood our 'Why'.  He made a bold claim that we would be extremely happy with what they would produce.  I was sceptic.  He was right!
As a team, they are committed to delivering the highest quality with a minimum amount of drama to the client. Each member of the team instilled complete confidence in their part of the vision and eventual build of the materials (website, stationery, social media branding and other brand assets).  They work as a very tight-knit, united and efficient unit and seem to enjoy bouncing creative ideas and energy off each other.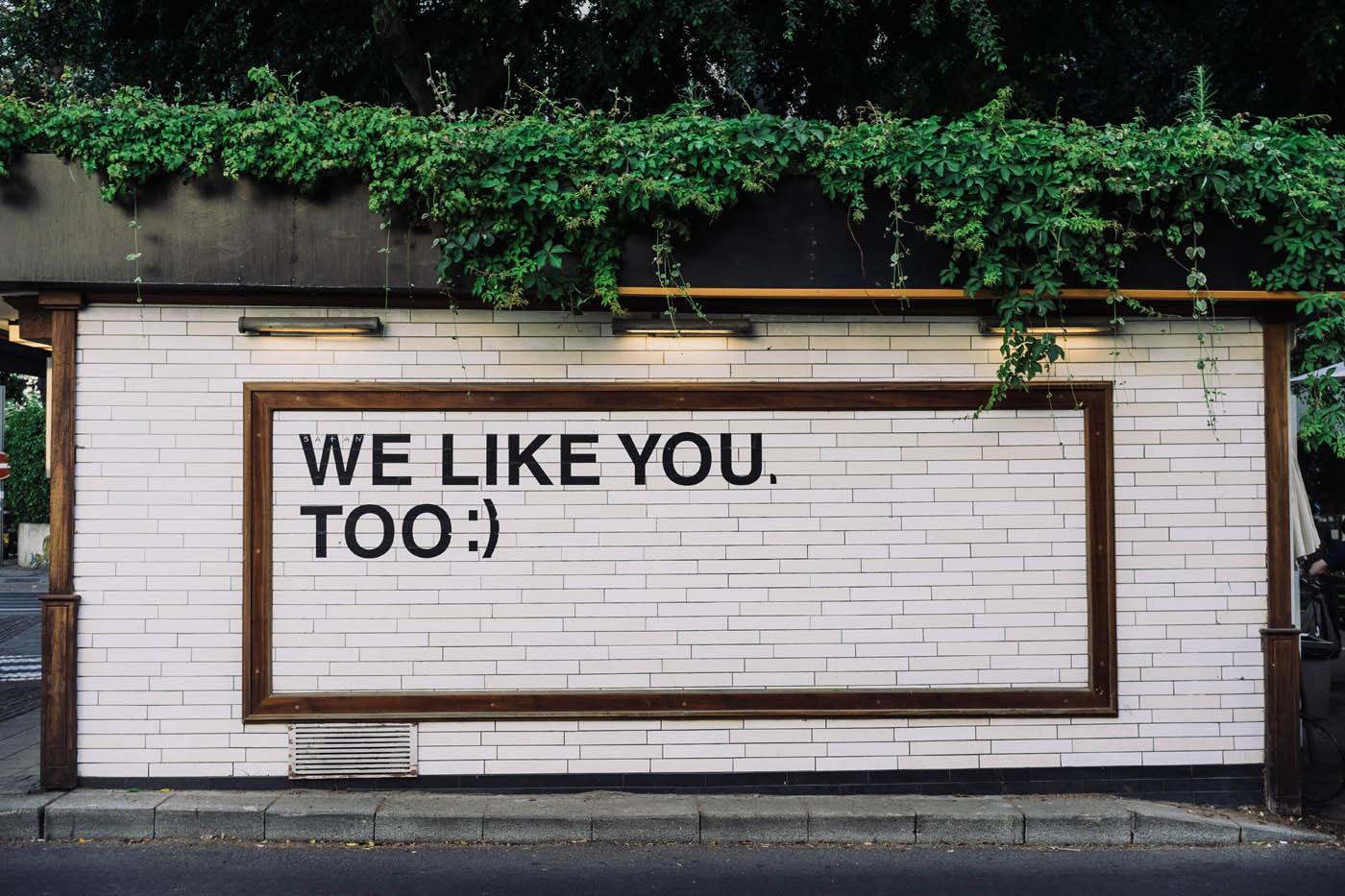 The two concepts that I was eventually presented with actually made me cry.  My challenge was less about which I didn't like, but which I liked more.  I could have gone with either one. They were dramatically different. And equally as wonderful.
The whole process has been smooth, on-time, involving minimal input from me and with brilliant outcomes.  I love our new brand.  I get excited every time I get a glimpse of it.  It's so much more than images, it represents the soul of who we are.  I feel that with this new branding, we can confidently stride into the ambitious growth plan that we have.
I have loved working with this wonderful team so much, that for as long as we can, any marketing needs that we have will be managed by them.  We have since used them to set up our email service and have plans for them to manage our Google Adwords campaign among a long list of other things.
In short, the Boostbery team are smart, perceptive, invested in you, creative geniuses, organised and all-round good people.  I'm glad to know they have my back."
Antoinette Daniel
Director & Founder
If you would like to reach out to us and share your thoughts or need some advice on anything raised in this article, then please do get in touch with us at hello@boostbery.com